[Press Release_202112_1]

Direct API connect with global airline provides personalized travel services
TIDESQUARE, NDC partnership with Hawaiian Airlines strengthens global presence
-Connection to HA Connect API with Hawaiian Airlines grants customized services and access to HA Channel+ content.
-Active promotion of NDC Aggregator business brings continuous partnership of global airlines
-Access to Hawaii inter-island and U.S. domestic flight booking services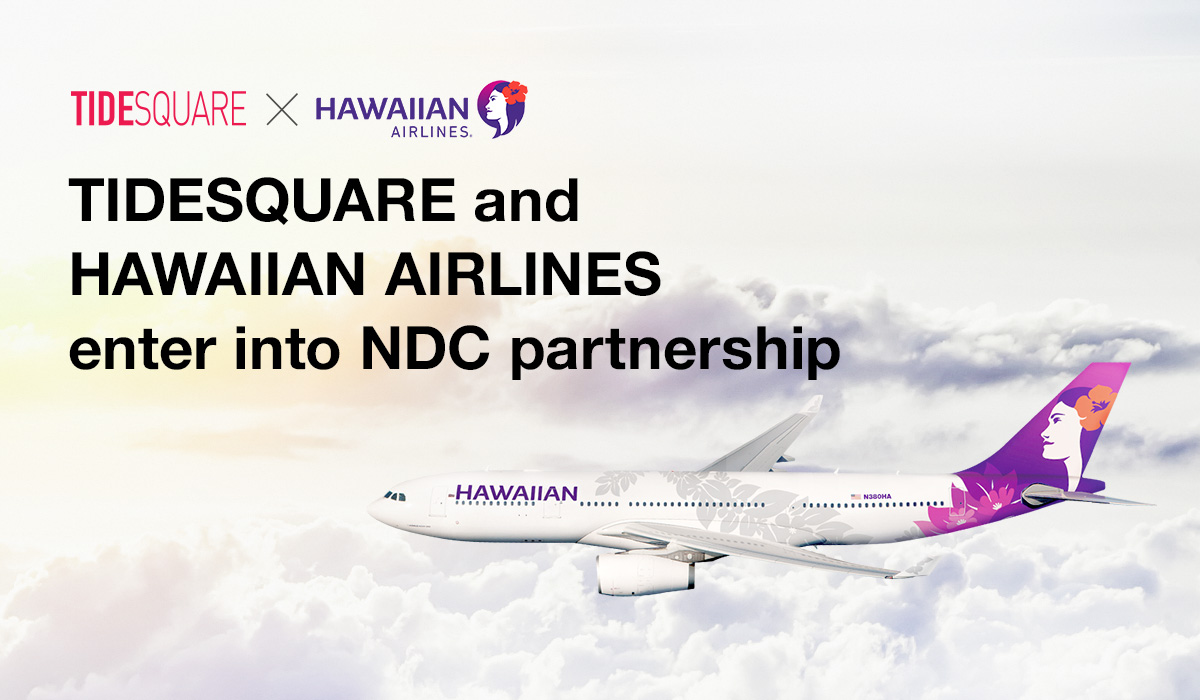 Dec 15, 2021, TIDESQUARE, a leading travel tech company in Korea has become a Hawaiian Airlines HA Connect
Approved Partner and will offer HA Channel+ content in its aggregation platform further strengthening its position as a
global leader in the travel tech sector.

NDC (New Distribution Capability) is an XML-based next-generation distribution innovation for airline ticket reservation,
issuing and canceling. In order to obtain NDC content, one must either connect directly to an airline or partner with
aggregator which is capable to manage and operate the NDC standard. TIDESQUARE has partnered with Hawaiian
Airlines leveraging its expertise in fight technology, demonstrated by IATA (International Air Transport Association) 'NDC
Capable Level 3' (the highest grade as of 2018) qualification to develop an API platform and 'NDC Aggregator Level 4'
(the highest grade as of 2019) certified to build and operate the NDC-enabled flight booking service. Joining the
network of HA Connect will bring unique content to TIDESQUARE's travel brand TOURVIS, providing additional
services such as exclusive fare and seat designation and ancillaries. In addition, it will allow users of TIDESQUARE's
access to all of Hawaiian's published fare content at the best price available.
Jun Shin, CSO of TIDESQURE, said "TIDESQUARE has been actively promoting the NDC Aggregator business since
2019 and unceasingly expanding its partnership with global airlines such as Hawaiian Airlines. Through this
partnership, TIDESQUARE will gain easier access to Japan and Southeast Asian markets, and differentiated services
will be provided to Hawaiian Airlines customers. In fact, Hawaiian Airlines from April 2022, will recover its cost from
travel agencies choosing to use legacy channels via a distribution cost recovery surcharge in the United States point
of sale, so partner benefits are expected to be highlighted further." Additionally, he quoted, "In the future, the
full-fledged expansion of NDCs by global airlines, including Hawaiian Airlines, will accelerate distribution efficiency."
*TIDESQUARE (www.tidesquare.com), is a fast growing travel tech company, achieving to become top five
domestic travel agency within 7 years of establishment (BSP standards). TIDESQUARE has been
operating a premium brand 'Hyundai Card PRIVIA Travel' providing customized products for high-end
customers. In 2017, TIDESQUARE acquired SK TOURVIS expanding its market share in OTA and
business travel management. In 2020, TIDESQUARE has simultaneously conducted
government-sponsored and setting grounds as a nationally recognized travel platform. Furthermore,
TIDESQUARE runs wide range of brands portfolio applying the latest travel technologies such as
Playwings, Kyte, and Allstay, while developing into an unrivaled travel tech company by acquiring "NDC
Capable Level 3" and "NDC Aggregator Level 4" certification from the International Air Transport
Association (IATA).