[Press Release] TIDESQUARE hosts
[202309_1]
Korea's Only Global Travel Marketing Conference
TIDESQUARE hosts The Human Revolution>
- Held November 2, 2023 at the Fairmont Ambassador Seoul Hotel
- Learn about new trends in the travel industry and the role new technology including AI will have on the future of travel
- Attended annually by travel industry leading experts including Yanolja, My Real Trip, Agoda and more.
- Save 20% with the Early Bird Rate if you book by Oct. 10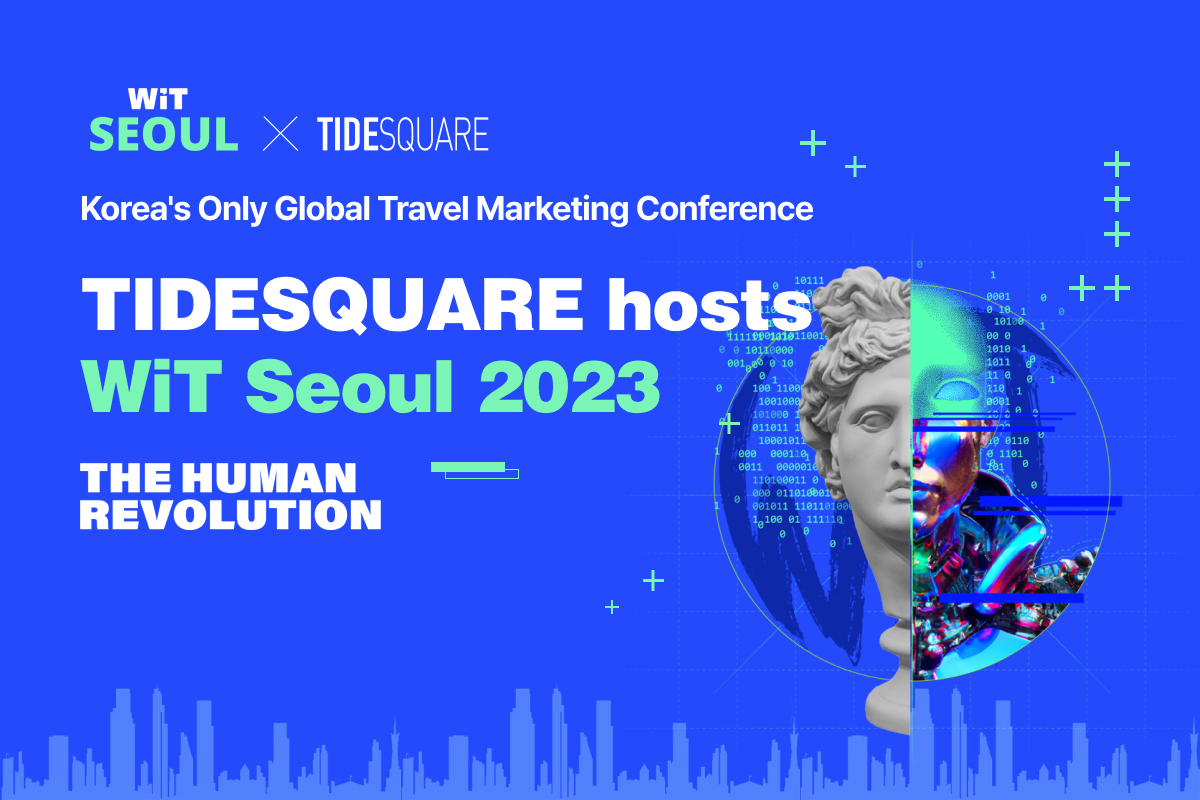 Travel tech company TIDESQUARE hosts South Korea's only global travel marketing conference at the Fairmont Ambassador Seoul Hotel on November 2, 2023.
WiT Seoul is actively attended by leading domestic and foreign industry experts every year as they discuss new trends and share ideas on the global travel industry. This year, the theme is "The Human Revolution", which emphasizes the need for a human revolution in the age of AI with various sessions, panel discussions and networking events planned focusing on human-centered innovation and change. Yanolja, MyRealTrip, Korea Tourism Organization, Naver Cloud and more will be leading 20+ themed sessions including ▲ Trends Driving Online Travel in Asia ▲ K-pop, Top of the Pops, Things To Do: It's All In The Experience ▲ Content Creation In The Age of AI.
The conference is expected to be a meaningful time to explore human-centered innovation strategies and future direction in the rapidly changing travel market, share industry trends and prospects through networking, and build new business partnerships. Min Yoon, CEO of TIDESQUARE, said, "By holding a global travel marketing conference in Korea, we continue to contribute to the development of the travel industry and provide an opportunity to share the latest trends and future strategies with global experts."
Tickets can only be purchased online. Save 20% with early bird fares if you book before Oct. 10. More information can be found on TIDESQUARE's official website. This year event participants will also be able to attend Korea Tourism Organizations , held at the Fairmont Ambassador Seoul Hotel on Nov. 1. Organized in collaboration with the conference, the event is designed to introduce key trends and the status of global travel technology companies to tourism startups selected and supported by the Korea Tourism Organization, and provide opportunities for global expansion and investor connections. Major domestic and international venture capitalists and travel technology companies will participate in sessions to share their experiences and present their vision for the travel market.
WiT Seoul has been co-organized by TIDESQUARE * and WiT (Web in Travel)* since 2016. Last year's WiT Seoul 2022: Hello, New World was attended by 300 industry leaders, experts, and related industry workers, including Korean Air, Hana Tour, Yanolja, and Agoda.
*INQUIRY
- Application and registration: https://event-us.kr/munwhaInfomation/event/69820
- Contact: witseoul@tidesquare.com

WiT / www.webintravel.com
WIT is a content, events and community platform for anyone passionate about the online travel space in Asia Pacific. It comprises the signature WIT Conference in Singapore, WIT editions in Tokyo (Japan & North Asia), Seoul (South Korea), Dubai (Middle East), Cape Town (Africa) and Amsterdam (Europe), a news portal, WiT Podcast and WiT Virtual. Founded in 2005 by Yeoh Siew Hoon, it is now part of the Northstar Travel Group. Since its establishment in 2016, WiT Seoul has continued to grow, with more than 120 travel related companies and 37 domestic and foreign influential speakers attending each year.
* TIDESQUARE / www.tidesquare.com
TIDESQUARE operates South Korea's #1 premium OTA brand "Privia Travel" and is one of the leading travel technology companies in the region. Spearheading technological advancements and achievements through a network of strategic local and global partnerships, TIDESQUARE aims to drive travel technology connectivity and distribution to provide best in class products and services to partners and customers both domestically and internationally. TIDESQUARE stands at the forefront of NDC and airline direct connectivity in Korea and also maintains an exclusive distribution network to industry leading companies such as Hyundai Credit card, Kakao Talk, Kakao Mobility, SK Telecom and more.