[WiT Seoul 2023_#1]
Unlocking the Future: Key Trends and Insights from Korea's Travel Startup Scene
Korea's travel startup landscape is in the midst of a transformation and the recent inaugural K-Travel Tech Summit provided valuable insights into the key trends shaping the industry. Aimed at connecting
startups with investors and industry leaders, the event was an open space for knowledge sharing, as well as elevating the global presence of Korean travel brands.
This event was the first of its kind in Korea, targeting the travel startup community. Organized by Korea Tourism
Organization (KTO), in collaboration with TIDESQUARE and WiT, thought leaders, startups, and industry giants came

together to discuss the latest developments in the travel sector.
In his opening statement, Director General, Tourism Industry Policy Bureau of the Ministry of Culture, Sports and
Tourism, Hoseong Yong, talked about how in this post-pandemic era, "Tourism businesses have had to innovate in
order to stay competitive." Moving from traditional business practices, many have invested in upgrading their
technical capabilities and the ministry is "fully supportive" of these initiatives to drive the industry forward.
Data and Technology for Enhanced Experiences
Technology and data-driven insights, as highlighted by Kakao Mobility and Naver, emerged as key tools for
enhancing travel services and customer experiences. Kakao Mobility shared insights into their plans to establish a
global Mobility as a Service (MaaS).
Currently, Kakao Mobility serves as a multi-modal distribution platform, allowing users to book all forms of
transportation from typical ride hailing services to pre-booked transfers and micro-mobility facilities like bike or
e-scooter sharing. They even provide flight booking capabilities, powered by travel partner, TIDESQUARE.
To transform the mobility landscape further, Kakao Mobility's MaaS vision centers on using their access to global
mobility data and the latest in AI to drive personalization and deliver a seamless, user-friendly experience for all
transportation users.
Naver's language research team at NAVER AI Lab, demonstrated the role of generative AI and natural language
processing (NLP) in content creation, offering a glimpse into the future of creating personalized content for
travelers. With these great developments, they also cautioned against the potential ethical concerns that could bring about malicious use of this new-age technology.
Redefining The Way We Travel
"The future lies in the hands of 'crazy' people who think they can change the world," said Onda's CEO,
Kevin Hyunseok Oh. The industry is now seeing more startups redefining the way we sell and experience travel by addressing niche markets and catering to diverse needs.
Amuse Travel specializes in offering customized services to vulnerable groups, such as senior citizens and children, aiming to make travel more accessible for everyone. Solo women travelers can turn to NomadHer for support whenever they want to travel.
Hanseek is the tool of choice for inbound travelers who need local food recommendations, while Farmpartia
sources local food ingredients while providing culinary experiences, emphasizing the importance of understanding
the origin of what we eat.
Travelholic, with its impressive 3.7 million followers, has redefined
content creation by co-creating short-form content and travel products with its community.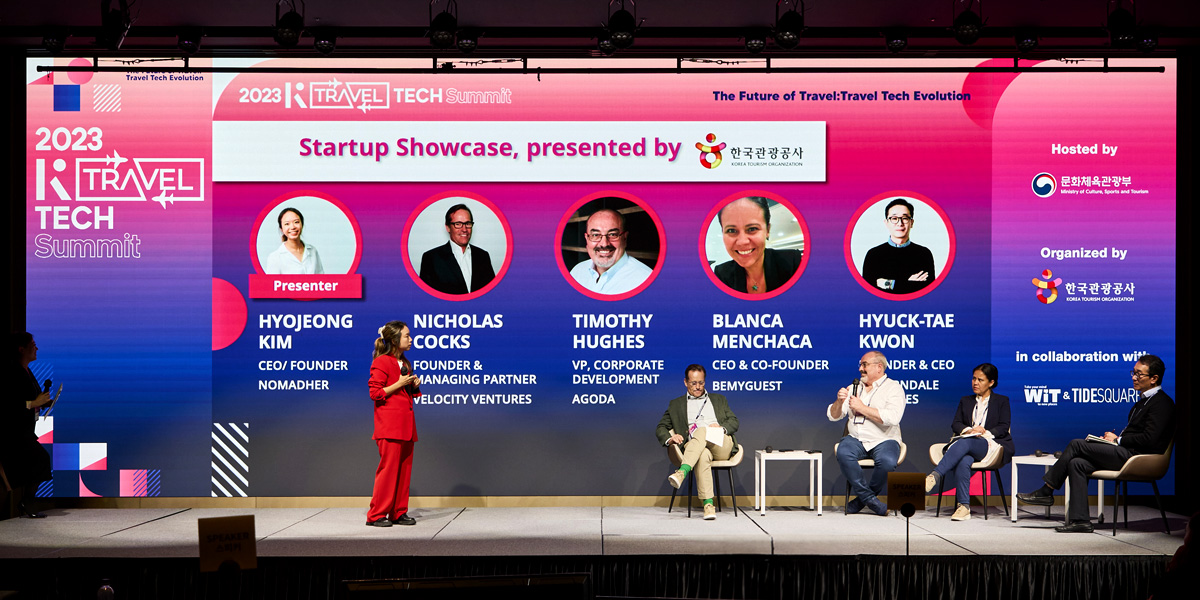 Scaling Up Through Partnerships and Investments
Yanolja, a prominent player in the Korean travel industry, shared the significance of investments and partnerships in scaling up its business. By leveraging partnerships and acquisitions both within and outside the travel industry,
Yanolja has been able to expand its geographical reach, contributing to Yanolja's rapid international growth.
With the popularity of K-dramas like King The Land bringing about the rise of Korean travelers to Thailand and
Thai travelers to Korea, Thai travel experience providers, TraveliGo and TakeMeTour took the opportunity to announce their new partnership on a Korean stage. Launched as Gother, this collaboration received THB 50 million (approximately KRW 1.8 billion) investment from Kasikorn Bank to expand their growth beyond Thailand, into Korea, Japan and Singapore.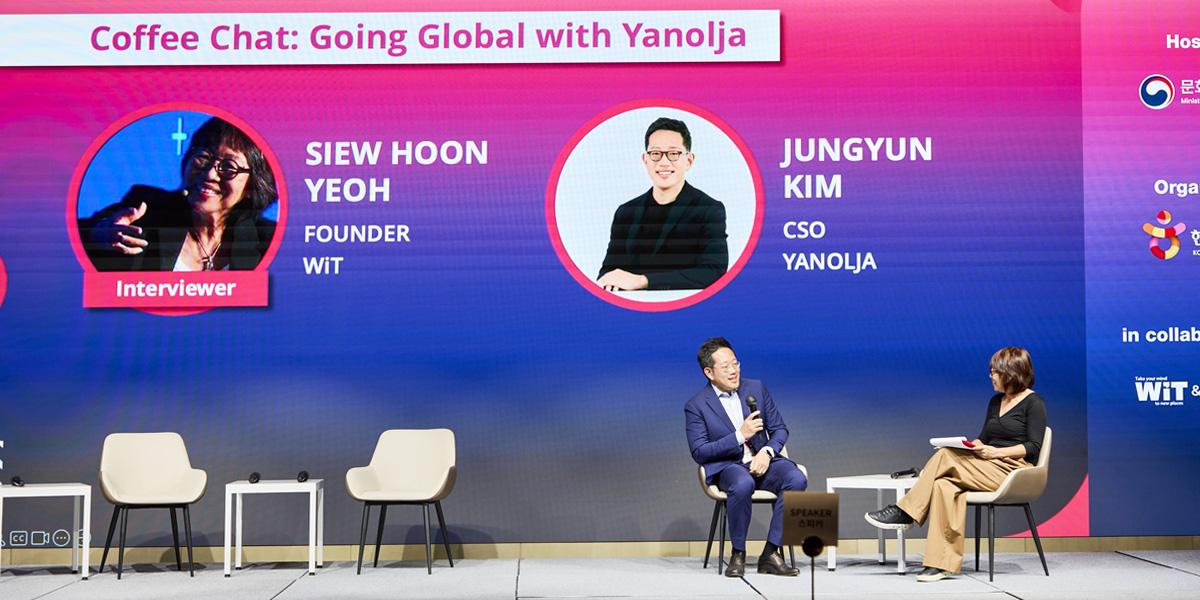 Global Expansion in Focus
Based on a Phocuswright study, 2023 saw a sharp drop in investment funding for travel startups globally. However the same study identified short-term rentals and the business-to-business(B2B) sectors as the verticals with the
highest investment growth potential.
Renowned Korean entrepreneur, Donggun Lee, CEO & Founder of MyRealTrip,
shared how he started MyRealTrip started as a tours and activities platform for South Korean travelers and has now evolved into a full-fledged online travel agency (OTA) with a physical store. The move has allowed MyRealTrip to
expand their market reach and include a new segment of travel buyers who are more comfortable making "more expensive" purchases offline.
"As an OTA we run a traditional business, connecting travelers to travel suppliers. But to give an unforgettable
experience, we need to customize and design unique experiences for our travelers." Lee's insights showed the
newer entrepreneurs that adapting to changes and being flexible are key qualities for navigating the industry.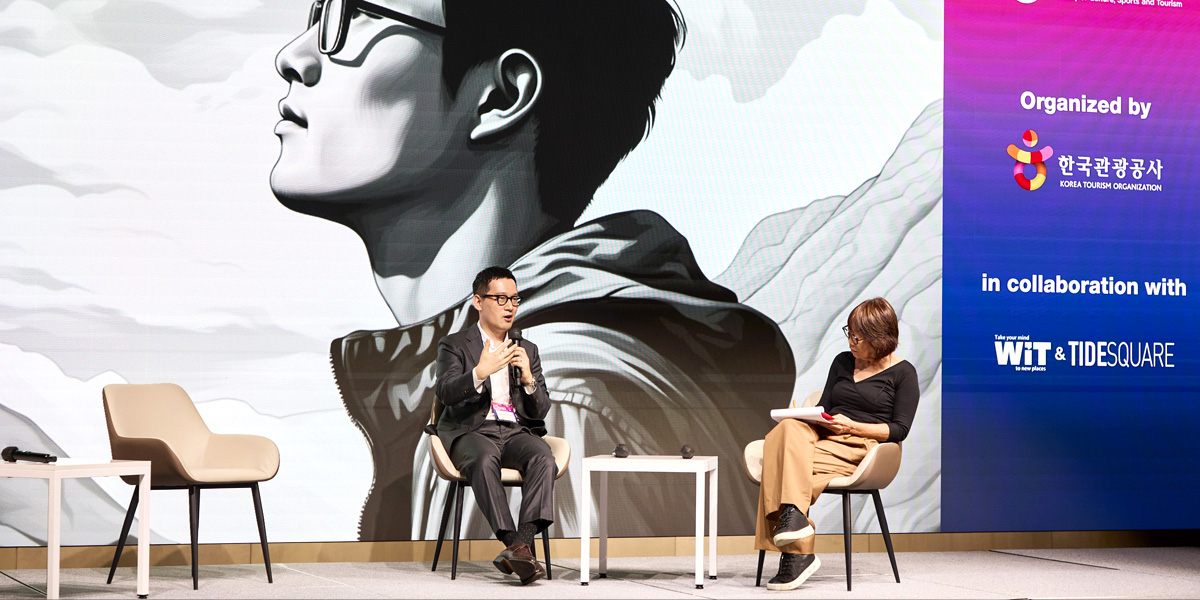 An Ecosystem on the Rise
In the words of Jiha Jung, CEO & Founder of Tripbtoz, "Without communication, there can be no innovation."
The K-Travel Tech Summit represents the beginning of a vibrant community that includes startups and forward-thinking industry leaders. This community can be expected to grow and play a crucial role in driving innovation within Korea's travel startup ecosystem. The discussions held highlighted the importance of adopting technology, forming industry partnerships, and nurturing global ambitions to shape the future of travel in South Korea.