[WiT Seoul 2023_#2]
Transforming Travel: Trends Shaping the Travel and Tourism Industry
(Key Insights from WiT Seoul 2023)
As the travel and tourism industry continues its recovery post-pandemic, this year's WiT Seoul 2023 shed light
on valuable insights and emerging trends shaping the landscape. Hosted by WiT and Tidesquare annually
since 2016, this year saw the largest ever WiT Seoul event with a total of 450 attendees across two days.
The conference served as a platform for thought leaders and industry giants to explore the evolving travel
landscape. From the changing role of OTAs to significant trends in the hospitality sector and the experiences
space, here's a comprehensive look at what's driving innovation in the industry.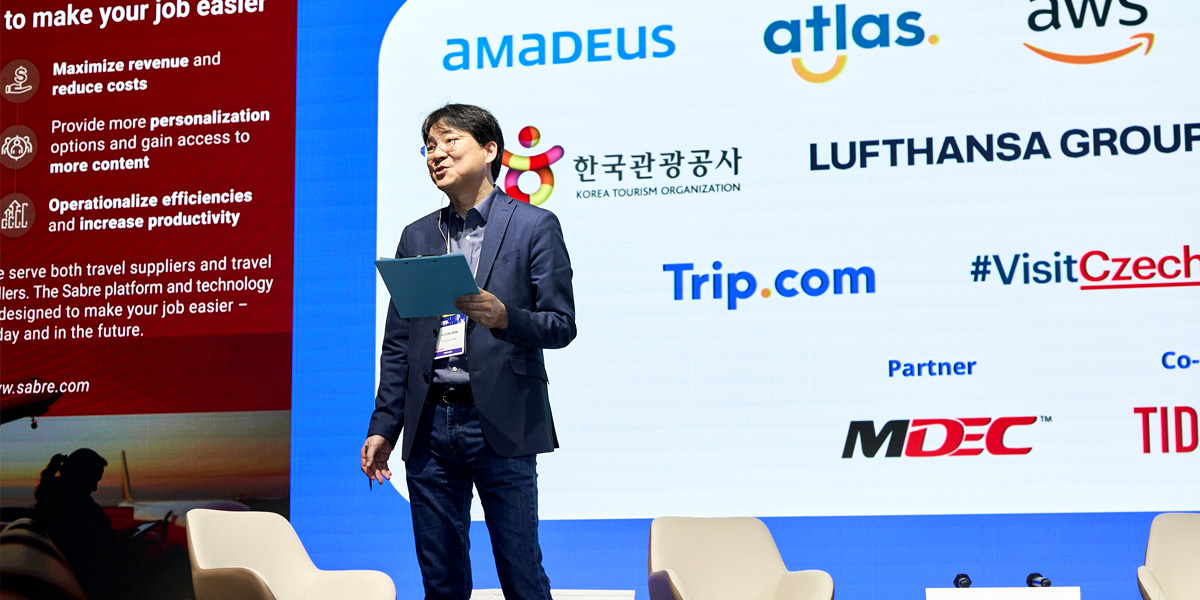 The Evolving Role of OTAs
The demand for Fully Independent Travelers (FITs) and small group travel experiences is on the rise, with travelers
seeking more personalized adventures that take them off the beaten path. Jay Lee, Director, South Korea of Agoda highlighted the growing preference for smaller travel groups exploring new destinations. As travel becomes
increasingly about unique experiences than cookie-cutter tours, OTAs are adapting by offering diverse and tailored options.
According to Hanna Sim, from Trip.com, the mobile generation is a driving force behind this shift. OTAs are no
longer just about booking flights and accommodations; they are evolving into one-stop platforms that offer a
wide array of experiences, activities, and services. This diversification reflects the industry's response to evolving
customer preferences.
Klook's insights reveal the growing influence of social media platforms like TikTok and Instagram on
travelers' decisions. James Lee, General Manager of South Korea, emphasized, "Social was just an inspiration
channel, but now they are becoming review channels that can actually drive conversions." Travelers are increasingly relying on user-generated content and recommendations from their peers, emphasizing the need for OTAs to
harness the power of social media in their strategies.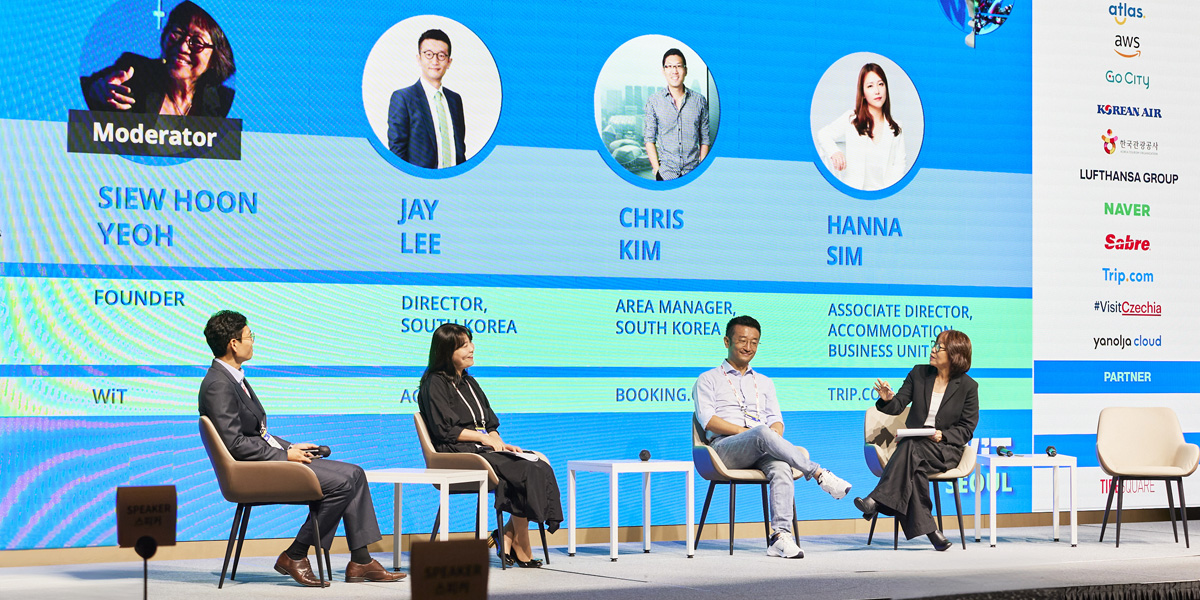 Transforming the Hospitality Sector
Sustainability remains a high priority for the hospitality industry. Many hotels are adopting eco-friendly practices, making conscious efforts to reduce their carbon footprint. This aligns with the preferences of travelers who are
increasingly choosing accommodations that reflect their environmental values. Representing KGH Group,
Rajan Sakya said, "People book rooms based on how environmentally conscious we are." Sustainability is no longer just a buzzword. Accor's Ollie Ansell aptly pointed out, "What we do with sustainability has driven some business
travelers to choose our hotels."
Technology is becoming an integral part of the hotel experience, enhancing customer convenience. From
contactless check-ins to in-room automation, hotels are leveraging AI and personalization to make stays more
comfortable and tailored to individual preferences.
As hotels embrace technology, Seungdo Woo from Amazon Web Services (AWS) suggested tackling labor shortages through enhancing the automation of specific operations, like guest assistance, while ensuring that the human
touch remains a crucial element of guest experiences.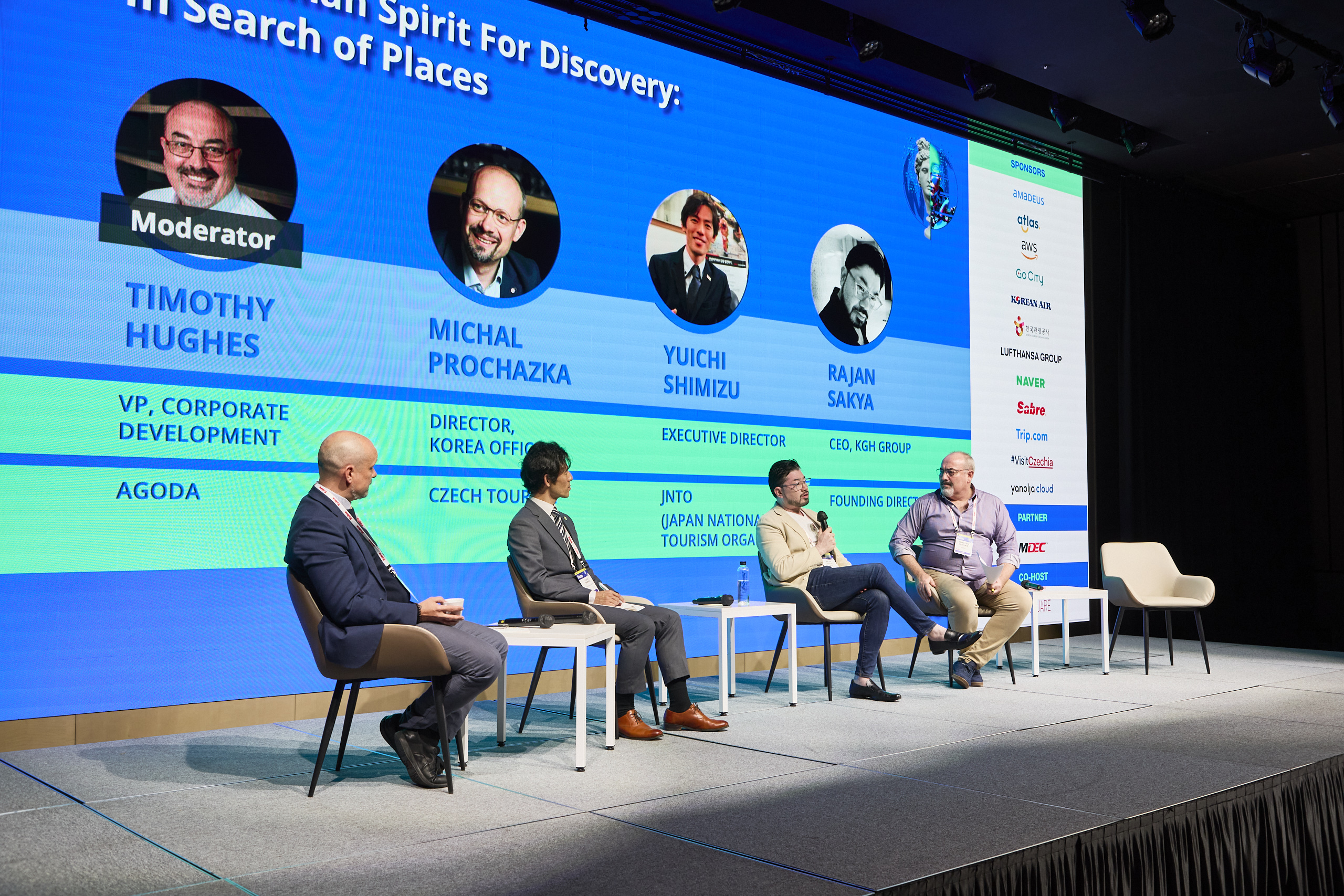 Travel builds bridges between humans
TIDESQUARE's CEO, Min Yoon, said "We gravitate towards human stories that make us feel at home." Travelers are
now eager for local-driven activities. As YoonYoung Choi of BeMyGuest also pointed out, "Inbound travelers want
to do the same as what the locals do." The rising demand for inbound travelers to Korea to engage in activities like "queuing at local stores or enjoying chicken and beer at local spots" underscores the shift towards more culturally
immersive travel.
According to research and data firm, Consumer Insight, since the pandemic, travelers tend to stay longer in
destination and spend 13% more than before. We have also seen unique travel packages gaining popularity. OTAs
are partnering with local businesses and niche providers to offer specialized packages.
For instance, Klook partnered with a K-pop dance studio to create a 5-day package, catering to fans of Korean pop culture.
Food experiences and culinary tourism are also on the rise. Travelers want to explore local cuisines, and OTAs are
making it easier for them to book food tours, cooking classes and other culinary adventures. In Korea, Hanbok
rentals and cultural experiences are also trending, allowing travelers to engage with the heritage of their
destination.
Key Opinion Leaders (KOLs) are playing an increasingly influential role in promoting travel experiences.
For Trip.com, content created by KOLs and influencers can reach viewerships of over 100 million.
Both Klook & GoCity's Will Choi agreed, "KOLs have become a conversion tool" as their content not only inspires,
but also influences travel choices.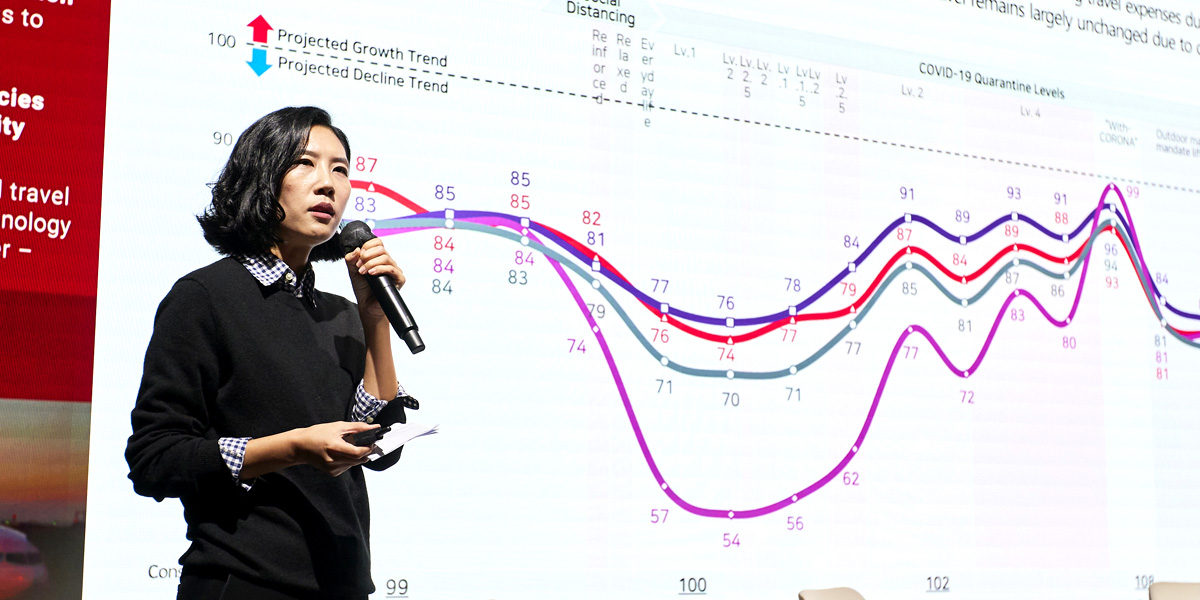 Corporate Travel Recovery and Airline NDC
Corporate travel is gradually recovering. Based on Global Business Travel Association (GBTA), Asia Pacific was the
region with the slowest business spend growth at only 15%, compared to global spending growth of 80%. However, Sabre's Brett Thorstad noted that in 2023, the recovery in South Korea and the Asia Pacific has already surpassed
the levels seen in 2019, pre-pandemic.
Renaud Nicolle of Amadeus shared how they've developed a new prototype with Accenture, using the power of
natural language processing to better cater their offerings for corporate travelers.
The growth of this segment hasn't gone unnoticed by travel suppliers. Atlas' Clive Ashmore Butler discussed how
low cost carriers (LCCs) have begun targeting corporate travelers by introducing more focused product bundles.
Jose Pereira of Lufthansa shared that the airline has invested in a technology partner, Spotnana, to help them
capture a share of the corporate travel market.
Technological investments made during the pandemic have also led to more airlines embracing
New Distribution Capability (NDC) to modernize their distribution channels and simplify complex bookings.
This move is aimed at providing a more efficient and customizable experience for travelers.

Embracing the Future of Travel
As travelers continue to seek more personalized and enriching experiences, the travel industry is responding with agility and innovation. However, in an industry that caters to people's desires to explore the world and create lasting memories, there has to be a delicate balance between technology and the warmth of human interactions.
As Jason Chan from Cinewave noted, "Imagination and kindness" are essential human traits that distinguish us from machines and robots. WiT Seoul 2023 provided a glimpse into the future of travel, where technology, sustainability, and personalization will collectively shape the way we explore the world.